Luiz Carlos Bresser-Pereira
São Paulo: Editora Gazeta Mercantil, 1985.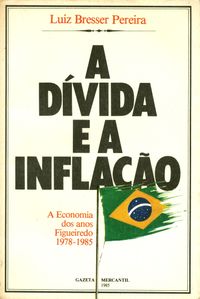 Articles on the Brazilian economy and the foreign debt published in the newspapers between 1978 and 1985.

Este livro, no qual o autor reune artigos sobre economia publicados na imprensa entre o final de 1978 e o início de 1985, pretende ser uma crônica da política econômica do governo Figueiredo e, ao mesmo tempo, uma análise da evolução da economia brasileira nesse período. É o registro de um tempo caracterizado por toda sorte de contradições - por prosperidade e crise, por autoritarismo e democracia, por discórdia e consenso -, no qual os dois termos básicos foram sempre a dívida externa e a inflação.
Livro em formato PDF, completo ou por capítulos
A Dívida e a Inflação (Completo)
Introdução - A Economia dos Anos Figueiredo
Capítulo 1 - O modelo brasileiro
Capítulo 2 - A questão nacional
Capítulo 3 - 1979 - Inflação e pacto social
Capítulo 4 - 1980 - As contradições da política econômica
Capítulo 5 - 1981 - A recessão começa
Capítulo 6 - 1982 - A crise externa
Capítulo 7 - 1983 - Recessão e inflação
Capítulo 8 - 1984 - A recuperação da economia
Capítulo 9 - 1985 - Nova aceleração inflacionária