Luiz Carlos Bresser-Pereira e Nuria Cunill Grau, coords.
São Paulo: CLAD/Fundap, 2006. Translation of book originally published in Spanish in 2000.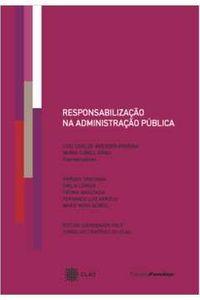 According to my classification, the bureaucratic forms of accountability are strict regulation, close supervision and auditing the managerial ones are management by results, administrative competition for excellency, and social accountability.
SUMÁRIO
Apresentação da edição Brasileira, 7
Luiz Carlos Bresser-Pereira
Apresentação, 9
Luiz Carlos Bresser-Pereira
Apresentação, 11
Edmundo Jarquín
A responsabilização na nova gestão pública Latino-Americana, 13
Conselho Científico do CLAD
Responsabilização pelos Controles Clásicos, 71
Enrique Groisman e Emilia Lerner
Responsabilização pelo controle parlamentar, 113
Fátima Anastasia
Responsabilização pelo controle de resultados, 165
Mario Mora Quirós
Responsabilização pela competição administrada, 217
Fernando Luiz Abrucio
Responsabilização pelo controle social, 263
Nuria Cunill grau
A responsabilização múltipla. Considerações finais, 323
Conselho Científico do CLAD