Luiz Carlos Bresser-Pereira
Publicação e-book em formato Kindle. Editora Cambury, 2018, de livro publicado em 1986.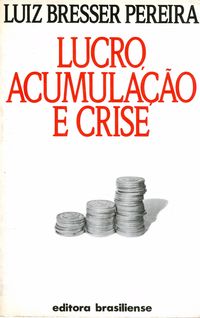 Book on the phases of capitalist development and distribution of income using Marx's theory of the falling tendency of the rate of profit. The phases change according to the change of technical progress from capital-using (as it was in Marx's time) to capital-saving, defined by the increase in the productivity of capital. In the first edition, the last phase was understood as capital-saving, but, eventually, it proved to be capital-using, and is a cause of relative stagnation of wages in rich countries. This change is acknowledge in the second edition (e-book) of the book, in the appendix.

Segunda edição e-book em formato Kindle. São Paulo: Editora Cambury, 2018.
1a. edição de 1986, S.PAULO: EDITORA BRASILIENSE - esgotada
Livro em formato PDF, completo ou por capítulos
Lucro, Acumulação e Crise (Completo)
A tendência declinante da taxa de lucro reexaminada
Capítulo I - A lei da taxa declinante de lucro
Capítulo II -Composição orgânica do capital e salários
Capítulo III -Os tipos de progresso técnico
Capítulo IV -Progresso técnico e o teorema de Okishio
As contratendências
Capítulo V - As contratendências e o imperialismo
Capítulo VI -Oligopolização e taxa de lucro
Capítulo VII - A tendência à estatização
Desenvolvimento e acumulação capitalista: o processo histórico
Capítulo VIII - Uma teoria de longo prazo dos salários
Capítulo IX -Modelo de desenvolvimento capitalista
Capítulo X -Etapas de desenvolvimento capitalista
Capítulo XI - Acumulação e capitalismo rentista
Ciclos e crises
Capítulo XII - Ondas longas e ciclos econômicos
Capítulo XIII - Acumulação e ciclo no capitalismo tecnoburocrático