Luiz Carlos Bresser-Pereira
1974. Editora Brasiliense, São Paulo. It was originally my PhD dissertation with the title "Mobilidade e Careira dos Dirigentes das Empresas Paulistas" [Mobility and Career of Paulistas Chief Executives] approved by the School of Economics of the University of São Paulo, 1972.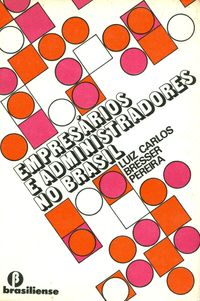 The modernization and profissionalization of the business enterprises in Brazil. The social origins and the career (or social mobility) of Paulista chief executives. This research should no be mixed up with the one reported in "Origens étnicas e sociais dos empresários paulistas" [Etnical and social origins of Paulistas Entrepreneurs](1964).
Livro em formato PDF, completo ou por capítulos
Empresários e Administradores no Brasil (Completo)
- Contra-Capa
- Obras do Autor
- Índice
- Apresentação
- Introdução
Capítulo I - A pesquisa
Capítulo II - A burocratização das empresas e a abertura de seu capital
Capítulo III - Origens étnicas
Capítulo IV - Mobilidade social
Capítulo V - Carreira dos diretores
Capítulo VI - Origem social e carreira
Capítulo VII - Diretores profissionais e não-profissionais
Capítulo VIII - Conclusão em Perspectiva Histórica

Anexo I - Origens étnicas e sociais do empresário paulista
Anexo II - Três hipóteses sobre o início da industrialização brasileira e a economia cafeeira
Anexo III - O empresário industrial e a revolução brasileira
Anexo IV - Questionário da pesquisa sobre mobilidade e carreira dos dirigentes das empresas paulistas