Luiz Carlos Bresser-Pereira
1990. A revised translation of A Sociedade Estatal e a Tecnoburocracia (1981) with several additions. Published only here, since 2004. Translation by Marcia Van Dyke.
This is the not published book that I wrote based on the book, A Sociedade Estatal e a Tecnoburocracia, and in the paper "Social Classes and Strata in Contemporary Capitalism". A previous version of this book was submitted to Cambridge University Press in 1983. In 1984 the editor told me that he would publish the book provided that changes were made. I was biginning my political life at that moment, and was unable to get involved into the changes. The book deals with the rise of technobureaucracy or the professional middle class: in capitalism, sharing power with the bourgeoisie in the Soviet Union and other comand economies, as the ruling class.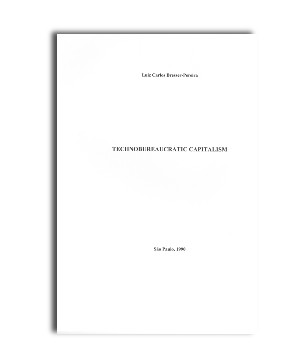 Book in PDF format, complete or by chapters
Technobureaucratic Capitalism (Complete)
Part 1 THE STATE IN CONTEMPORARY CAPITALISM
Chapter 1 THE CONCEPT OF STATE
Chapter 2 THE HISTORICAL EVOLUTION OF THE STATE
Chapter 3 CONTEMPORARY CAPITALISM AND THE STATE
Chapter 4 THE CRISIS OF THE STATE
Chapter 5 THE CYCLICAL PATTERN OF STATE INTERVENTION
PART 2 CAPITALISM AND TECHNOBUREAUCRATISM
Chapter 6 FACTS THAT CHANGED CAPITALISM
Chapter 7 HISTORICAL STAGES: A CRITIQUE
Chapter 8 TECHNICAL EXPERTISE, THE NEW STRATEGIC FACTOR
Chapter 9 THE NEW RELATIONS OF PRODUCTION
Chapter 10 W AGES AND SALARIES
Chapter 11 FURTHER DISTINCTIONS
Chapter 12 THE SOVIET SOCIAL FORMATION
PART 3 CLASSES IN TECHNOBUREAUCRATIC CAPITALISM
Chapter 13 THE THEORY OF SOCIAL CLASSES
Chapter 14 CASTES, STATUS GROUPS AND SOCIAL CLASSES
Chapter 15 CLASS IN STATIST SOCIAL FORMATIONS
Chapter 16 CLASSES IN CLASSICAL AND CONTEMPORARY CAPITALISM
Chapter 17 THE "MIDDLE CLASS QUESTION"
Chapter 18 THE SEARCH FOR A THEORETICAL SOLUTION
Chapter 19 PRODUCTIVE AND UNPRODUCTIVE LABOR
Chapter 20 COORDENATIVE AND OPERATIVE LABOR
Chapter 21 TECHNOBUREAUCRATIC IDEOLOGY
Chapter 22 AN UTOPIAN CONCLUSION