Luiz Carlos Bresser-Pereira
São Paulo: Editora Brasiliense, 1981.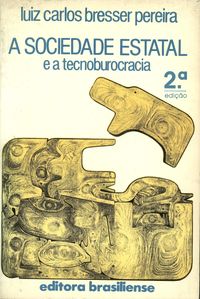 The rise of technobureaucracy or the professional middle class. In capitalism, sharing power with the bourgeoisie in Soviet Union and other comand economies (where the state mode of production is dominant), as the ruling class.

Não é possível pensar nas classes sociais em termos de vilões e heróis. Por isso, é inútil pensar na tecnoburocracia como o novo vilão da história, como uma classe necessariamente autoritária que frustrou as esperanças no socialismo. Isto é ser vítima da ideologia burguesa. É certo que não temos ainda a experiência histórica de sociedades que sejam dominantemente estatais e razoavelmente democráticas, mas é muito cedo para deduzir daí que o estatismo seja incompatível com a democracia. Ele é tão incompatível com a verdadeira democracia quanto o capitalismo, na medida em que só em uma sociedade sem classes e sem Estado, socialista e auto-gestionária, poderse-á pensar em democracia plena.(contra capa).
Resenha de Gérard Lebrun

ÍNDICE

Introdução : Fatos Novos, Novas Relações de Produção

Primeira Parte: A Emergência da Tecnoburocracia
Capítulo I - As Etapas da História: Uma Crítica
Capítulo II - Técnica mdash o Novo Fator Estratégico de Produção
Capítulo III - Revoluções Comunistas
Capítulo IV - Revoluções Militares
Capítulo V - Tecnoburocracia e Capitalismo
Capítulo VI - Técnicos e Tecnoburocracia
Capítulo VII - A Ideologia Tecnoburocrática
Capítulo VIII - Da Tecnoburocracia à Revolução
Segunda Parte: Notas Introdutórias ao Modo Tecnoburocrático ou Estatal de Produção.
Capítulo IX - Surge um Novo Modo de Produção
Capítulo X - Relações de Produção: A Propriedade Organizacional
Capítulo XI - Salários e Ordenados
Capítulo XII - Capitalismo de Estado?
Capítulo XIII - Burocracia e Modo Asiático de Produção
Capítulo XIV - Conclusão Política

Terceira Parte: Debate sobre a Tecnoburocracia
Capítulo XV - Além do Capitalismo? (Giannotti)
Capítulo XVI - A Partir da Crítica
Capítulo XVII - O Capitalismo e os Limites da burocracia (Lima e Belluzzo)
Capítulo XVIII - Lições do Aprendiz de Feiticeiro ou Tecnoburocracia e Empresa Monopolista
Capítulo XIX - Economia e Administração: Mercado e Poder

Quarta Parte: China e União Soviética, Estatismo e Socialismo
Capítulo XX - O Fim da Revolução Cultural
Capítulo XXI - Democracia e Gestão Econômica
Capítulo XXII - Trabalho Intelectual e Manual
Capítulo XXIII - Modelos de Industrialização e Socialismo
Capítulo XXIV - A União Soviética e as Classes
Capítulo XXV - O Autoritarismo Monolítico
Capítulo XXVI - Semelhanças e Perspectivas

Conclusão: Capitalismo de Estado, Estatismo e Socialismo Autogestionário