Luiz Carlos Bresser-Pereira
Buenos Aires: Editora Eudeba, 1999.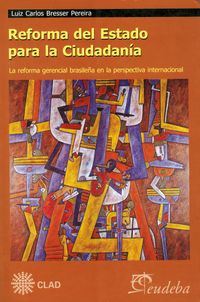 A theory for public management reform, and a systematic account of the 1995-98 Brazilian Public Management Reform. Book was originally published in Portuguese and is
available in the bookstores
.

El argumento de Bresser Pereira es irrefutable: la inspiración de la reforma gerencial es mucho más republicana que liberal. Su objetivo central es el de asegurar condiciones más propicias para la defensa de la res publica, para la protección de los "derechos republicanos" en la terminología sugerida por el autor. Su principio rector es la necesidad de revertir la privatización del Estado y promover modalidades de control de la acción pública por parte de los ciudadanos. Lejos de minimizar la esfera pública, lo que se hace es robustecerla.
Se percibe que el tema va mucho más allá de la mera reforma administrativa o del simple rediseño de organigramas. En realidad, incorpora principios éticos y contenido político. Está vinculado, no a la eliminación del Estado, sino precisamente a su reconstrucción en moldes más efectivos. Una reconstrucción que presupone la superación de dilemas obsoletos, como el que pretendía forzarnos a optar entre el estatismo exacerbado y el libre mercado, y que tampoco se deja maniatar por una falsa identificación entre lo público y lo estatal. Una reconstrucción que procura disipar la ilusión, de consecuencias gravísimas, de que para asegurar los derechos de la ciudadanía estaríamos obligados a preservar un Estado de "malestar social' cuyas estructuras distorsionadas funcionaron como mecanismos adicionales de concentración de la renta.
Contra esta ilusión y contra estos falsos dilemas, lo que se propone es un Estado que favorezca las condiciones para el crecimiento de la economía y que pueda hacer frente al imperativo de la universalización del acceso a los servicios públicos, quedando entendido que esto exige una atención prioritaria a las demandas de los sectores más pobres. Un Estado que no sustituya al mercado y a la iniciativa privada, pero que los regule en forma eficaz y orientada hacia el interés público. Fernando Henrique Cardoso (quarta capa)
Libro en formato PDF, completo o por capítulos
Reforma del Estado para la Ciudadanía (Completo)
Indice
Prefacio
Presentación
Introducción: Una Reforma para La Ciudadanía

Parte 1 - Marco Histórico: Crisis y Reforma
Capítulo 1 - Crisis Del Estado y Respuestas
Capítulo 2 - Reforma Gerencial

Parte 2 - Marco Teórico: Democracia y Eficiencia
Capítulo 3 - La Defensa de La Res Pública
Capítulo 4 - Marco Institucional
Capítulo 5 - Orientaciones Teóricas
Capítulo 6 - Formas de Control
Capítulo 7 - Reforma Gerencial y Democracia

Parte 3 -Antes de La Reforma
Capítulo 8 - Reformas Administravas en el Brasil
Capítulo 9 - Diagnóstico: Las Distorsiones

Parte 4 - Reforma Gerencial en el Brasil
Capítulo 10 - Reforma Constitucional de La Administración
Capítulo 11 - Reestructuración y Calidad
Capítulo 12 - Agencias Ejecutivas
Capítulo 13 - Las Organizaciones Sociales
Capítulo 14 - Reforma Gerencial en La Salud
Capítulo 15 - La Nueva Política de Recursos Humanos
Capítulo 16 - Eliminación de Privilegios y Reducción de Costos
Capítulo 17 - Simplificación de Las Compras y Tercerización
Capítulo 18 - Otros Proyectos
Capítulo 19 - Reforma de La Previsión
Conclusión: Una Reforma irreversible?