Luiz Carlos Bresser-Pereira
Paris: Éditions de la Maison des Sciences de l'Homme, 2002.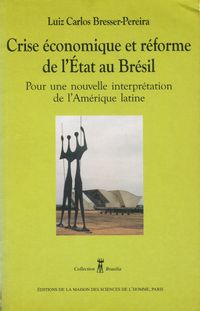 The 'crisis of the state interpretation'. Economic and political analysis of the crisis from 1980 to 1995. It includes a critical introduction updating the analysis.

Available at Centre Interinstitutionnel pour la Diffusion de Publications en Sciences Humaines
131 Boulevard Saint Michel
75005 Paris, France.
Tel. 33 (0)1 43 54 47 15.
Livre au format PDF, complet ou par chapitres
Crise économique et réforme de l'État au Brésil (Complet)
Contra Capa
Sommarie
Avan-propos
Introduction: À la recherche d'une nouvelle interprétation
I - Les Interprétations
1. Interprétations et stratégies
2. L'Interprétation de la crise de l'État
3. Les cycles de l'État
II - La Crise Fiscale
4. Crises et transformations
5. La macroéconomie perverse
6. La crise de la dette
7. L'hyperinflation
III - La Dimension Politique
8. Crise et rénovation de la gauche
9. Les obstacles politiques à la réforme économique
10. Le gouvernement Collor: des crises politiques récurrentes
11. La contradiction de la citoyenneté
IV - Les Réformes
12. Réformes économiques en périodes anormales
13. Une attaque dramatique contre l'inflation
14. Les tentatives de stabilisation
15. Les réformes réussies
16. La réforme de l'Administration publique
17. La perspective internationale
18. Vers un nouveau pacte politique
Bibliographie
Liste des abréviations
Liste des tableaux et figures