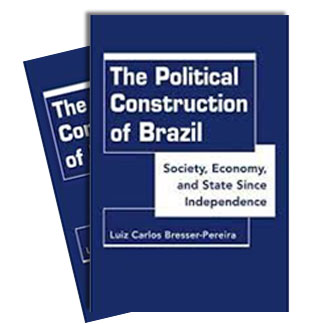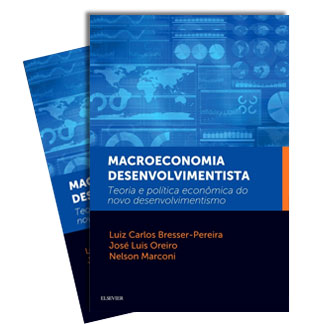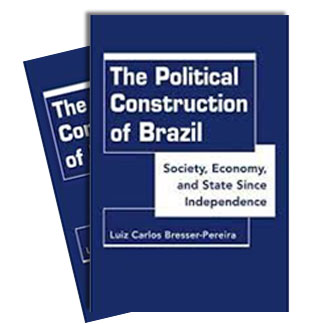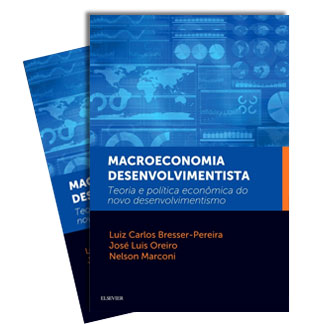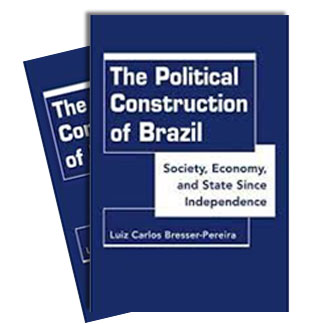 Destaques
---
Eu hoje me sinto profundamente envergonhado de ser brasileiro. Envergonhado porque nós, brasileiros, e o Congresso que elegemos não fomos ainda capazes de promover o impeachment do sr. Bolsonaro. (Nota no Twitter e FB, 5.3.21)
O presidente da Câmara dos Deputados, Arthur Lira, ameaça o Brasil com uma reforma eleitoral, o "distritão", que é ainda pior do que o que temos: eleições proporcionais com listas abertas. (Nota no Twitter e FB, 4.3.2021)
---
2021. The authoritarian character of right-wing populism does not mean that democracy is dying in the more advanced countries. It is a symptom of the terminal crisis of the neoliberal ideology. (Paper: Lua Nova,/i>)
2021. The liberal policy regime is incompatible with growth in Latin America. (Paper with Carmem Feijó and Eliane de Araújo to be published in Oxford Handbook on Secular Stagnation).
2020. Note defiining the competitive exchange rate or industrial equilibrium - the exchange that makes competitive the companies or investment projects utilizing the best technology. A critique to a paper by José Luis Oreiro, Paulo Gala and Luciano D'Agostini. (Available in this website only).
---
2020. Many rich countries are financing the huge Covid-19 expenditures by monetary emission. Brazil should have done the same. Portuguese version available. (Paper: Brazilian journal of Political Economy) English version available
2020. Ex-ministro dos governos Sarney e FHC, Bresser-Pereira demonstra preocupação com o futuro da economia do país e pede mais investimentos por parte do Estado. (Entrevista a Zero Hora)
2020. Para Bresser-Pereira, com pensamento liberal não pode haver crescimento. Por isso, reedita sua tese novo-desenvolvimentista e assegura que imprimir moeda não é sinônimo de inflação descontrolada (Entrevista para Unisinos).
2020. Many rich countries are financing the huge Covid-19 expenditures by monetary emission. Brazil should have done the same. Portuguese version available. (Paper, Forum for Social Economics) Portuguese version available
O Tigre Branco
(Ramin Bahrani. rot (2021) India Romance: Aravind Adiga c/ Adarsh Gourav, Rajkummar Rao, Priyanka Chopra) 2021. O homem superior pode tudo. É a lição de Nietszche aplicada em uma Índia violenta, miserável e corrupta. NETFLIX
Marshall, Igualdade e Justiça
(Reginald Hudlin (2017) EUA Escr: Michael Koskoff, Jacob Koskoff c/ Chadwick Boseman, Josh Gad, Kate Hudson |) 2017. Um episódio na vida de Thurgood Marshall, que seria depois o primeiro juiz negro da Suprema Corte americana. Belo filme sobre um julgamento. NETFLIX
Enola Holmes
(Harry Bradbeer (2020) UK Rot: Jack Thorne Romance: Nancy Springer (based upon the book "The Case of the Missing Marquess: An Enola Holmes Mystery" c/ Millie Bobby Brown, Henry Cavill, Sam Claflin) 2020. Um triunfo de feminismo, da fantasia e da imaginação. Enola é invencível por sua coragem e generosidade. NETFLIX
Notícias do Mundo
(Paul Greengrass, rot. (2020) EUA Rot: Luke Davies Romance: Paulette Jiles c/ Tom Hanks, Helena Zengel, Tom Astor) 2020. No Texas violento de 1870, um homem bom enfrenta tudo para salvar uma menina alemã criada pelos índios Kayowas.
Sementes Podres (Mauvaises Herbes)
(Kheiron escr (2016) França c / Kheiron, Catherine Deneuve, André Dussollier) Podemos sempre nos reinventar. Ou esse é o nosso desafio diário. NETFLIX
The Fundamentals of Caring
(Rob Burnett, escr (2016) EUA Romance: Jonathan Evison c/ Paul Rudd (cuidador), Craig Roberts, Selena Gomez) Para cuidar é preciso ser generoso. NETFLIX
Blue Valentine
(Derek Cianfrance, escr (2010) EUA Escr: Joey Curtis, Cami Delavigne c/ Ryan Gosling, Michelle Williams, John Doman) O amor e a dedicação dele não foram suficientes para salvar o casamento. Um drama cheio de interrogações. MUBI
Fuga à Meia Noite (Midnight Run)
(Martin Brest (1988) Escr: George Galllo Writer: George Gallo c/ Robert De Niro, Charles Grodin, Yaphet Kotto, John Ashton (Marvin)) 1988. Um road movie; um thriller com uma história realmente oriiginal. Um brilho. NETFLIX
Bons artigos que li recentemente Ver todos
Só haverá recuperação se houver estímulo
Combate rigoroso à pandemia pode melhorar economia, sugerem dados
Desinformação se combate com educação, informação e Polícia Federal
Inclusões recentes / Recents inclusions
BOOKS Available in the bookstores or in this site (pdf)
LIVROS disponíveis nas livrarias ou nesse site (pdf)
Em Busca do Desenvolvimento Perdido
Editora da FGV, 2018

The Political Construction of Brazil
Lynne Rienner Publishers, 2017

A Construção Política do Brasil
Editora 34, 2016 (3a. edição), 2016

Macroeconomia Desenvolvimentista
c/ José Luis Oreiro e Nelson Marconi
Editora Elsevier, 2016
Developmental Macroeconomics
c/ José Luis Oreiro e Nelson Marconi
Routledge, 2014.
Globalization and Competition
Cambridge University Press, 2010.

Globalização e Competição
Elsevier, 2010.

Mondialisation et competition
Edition La Decouverte, 2009.

Developing Brazil:
Lynne Rienner Publishers, 2009

Democracy and Public Management Reform
Oxford University Press, 2004.

Introdução à Organização Burocrática
c/ Fernando Prestes Motta
Thomson, 2003.
Desenvolvimento e Crise no Brasil (5ª. Edição)
Editora 34, 2003.