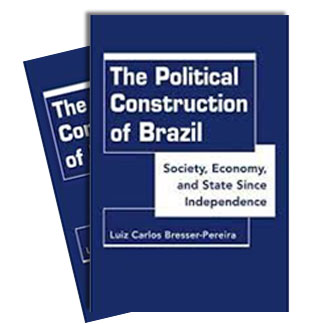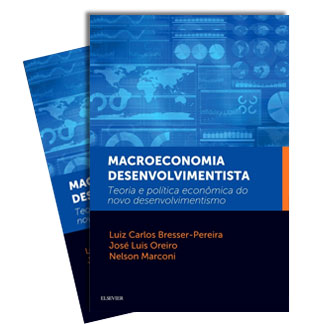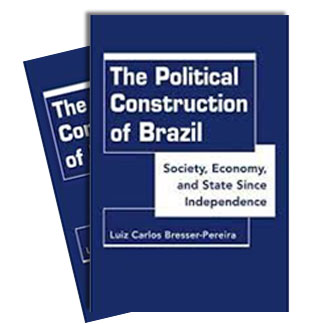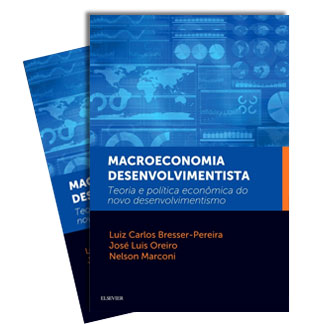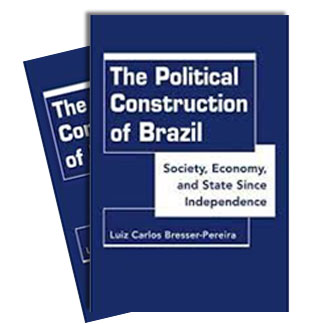 Destaques
---
2020. Bresser-Pereira talks with Carmem Feijó and Eliane Araújo on the New-Developmental Macroeconomics which he is building with other economists since the early 2000s. (Video)
---
2020. Many rich countries are financing the huge Covid-19 expenditures by monetary emission. Brazil should have done the same. Portuguese version available. (Paper, Forum for Social Economics
2020. A broad picture of the political and economic crisis in which Brazil is immersed since respectively 2013 and 2014..(Video interview to Isabella Marzolla, O Estado de S.Paulo ,31 minutes)
2020. Liberalism is incompatible with Brazil because it favors high interest rates, growth with foreign indebtedness, and ignores the Dutch disease. (Jornal dos Economistas)
---
2020. A survey of the main theories of the state - republican, organic, constractualist, Marxist, etc. including the new-developmental theory of the state..
2020. Uma análise ampla da crise brasileira. Conferência organizada pelo Departamento de Filosofia da PUC-RS (Video)
2020. Entrevista a Marco Antonio Villa (video).
2020-Participação de Bresser-Pereira, em nome do projeto Brasil Nação, no lançamento da campanha "Brasil pela democracia e pela vida". (Vídeo)
A Caverna dos Sonhos Esquecidos (doc)
(Werner Herzog, escr e narra (2010) Alemanha Depoimentos de Jean-Michel Geneste, Jean Clottes, Julien Monney, Valerie Fegulio|) 2010. Há 32 mil anos nossos antepassados sonhavam como sonhamos hoje. Magnífico documentário sobre a caverna de Chauvet, descoberta em 1994, no sul da França. MUBI
A Primeira Noite de um Homem (The Graduate)
(Mike Nichols (1967) EUA Rot: Calder Willingham Buck Henry Romance: Charles Webb c/ Dustin Hoffman, Anne Bancroft, Katharine Ross) 1967. Uma brilhante comédia romântica, brilhantemente dirigida por Mike Nichols. Lançou um grande ator, Dustin Hoffman. E as belas canções de Simon & Garfunkel..
Mulher Alta (Beanpole)
(Kantemir Balagov, escr (2019) Rússia Escr: Aleksandr Terekhov c/ Viktoria Miroshnichenko (Iya), Vasilisa Perelygina (Masha), Andrey Bykov, Konstantin Balakirev (Yvan) ) 2019. Depois da guerra, duas mulheres que estiveram no front, feridas por dentro, estão agora em Leningrado. O que lhes oferece a vida? MUBI
Giraffe
(Anna Sophie Hartmann, escr. (2019) Alemanha c/ Lisa Loven Kongsli, Jakub Gierszal, Maren Eggert) 2019. Uma quase-documentário. Um mundo que acaba. Uma antropóloga que procura entender esse mundo e ela mesma. A vida e o amor. MUBI
Suprema (On the Basis of Sex)
(Mimi Leder (2018) EUA Escr: Daniel Stiepleman. c/ Felicity Jones, Armie Hammer (Martin Ginsburg), Justin Theroux (Mel,adv), Anne Baxter, Sam Waterson (Dean Harvard), Cailee Spaeny (Jane Ginsburg)) Ruth Bader Ginsburg foi uma grande juíza da Suprema Corte. O caso que a lançou, uma ótima defesa da igualdade de gêneros. Mas o filme técnico-jurídico demais.
Rede de Ódio (The Hater)
(Jan Komasa (2020) Polônia, Escr: Mateusz Pacewicz. c/ Maciej Musialowski, Vanessa Aleksander, Danuta Stenka) 2020. Talvez existam pessoas que usam o ódio como arma como o personagem desse filme, mas eles tornam o filme desagradável. E não me diz nada sobre a sociedade, porque qualquer sociedade pode ser vítimas de pessoas criminosas como essa. (Netflix)
Joias Brutas (Uncut Gems)
(Benny Safdie, Josh Safdie (2019) Escr: Ronald Bronstein, Josh Safdie e Bennie Safdie c/: Adam Sandler, Julia Fox (Julia), Idina Menzel (esposa)) 2019. Ele inteligente, corajoso e espontâneo demais para que um bruto fascista cheio d ódio pudesse aguentá-lo. (Netflix)
Nada Ortodoxa (Unorthodox) (Minisérie).
(Criador Anna Winger (2020) Diretor: Maria Schrader Livro: Deborah Feldman, rot. Rot: Daniel Hendler, Alexa Karolinski, Anna Winger Stars: Shira Haas (Esther), Amit Rahav (marido), Jeff Wilbusch (Moishe), Delia Mayer (mãe). Netflix não informou se haverá segunda temporada.) 2020. A conquista da liberdade exige coragem e firmeza. (Netflix, 4 episódios)
Bons artigos que li recentemente Ver todos
D. Paulo Evaristo Arns: o que importa é a defesa das vítimas
Bolsonaro te dá liberdade de me matar
Checando os fatos e enxugando o gelo
Inclusões recentes / Recents inclusions
BOOKS Available in the bookstores or in this site (pdf)
LIVROS disponíveis nas livrarias ou nesse site (pdf)
Em Busca do Desenvolvimento Perdido
Editora da FGV, 2018

The Political Construction of Brazil
Lynne Rienner Publishers, 2017

A Construção Política do Brasil
Editora 34, 2016 (3a. edição), 2016

Macroeconomia Desenvolvimentista
c/ José Luis Oreiro e Nelson Marconi
Editora Elsevier, 2016
Developmental Macroeconomics
c/ José Luis Oreiro e Nelson Marconi
Routledge, 2014.
Globalization and Competition
Cambridge University Press, 2010.

Globalização e Competição
Elsevier, 2010.

Mondialisation et competition
Edition La Decouverte, 2009.

Developing Brazil:
Lynne Rienner Publishers, 2009

Democracy and Public Management Reform
Oxford University Press, 2004.

Introdução à Organização Burocrática
c/ Fernando Prestes Motta
Thomson, 2003.
Desenvolvimento e Crise no Brasil (5ª. Edição)
Editora 34, 2003.