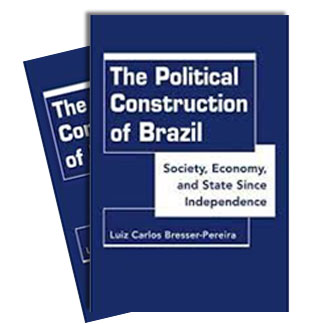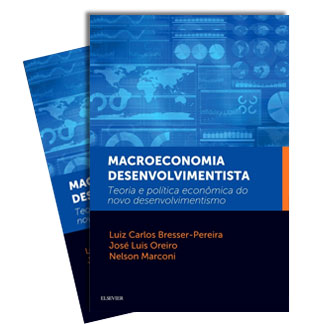 Destaques
---
20.07.2020 - Um jovem entregador cheio de energia e inteligência mostra que ainda há esperanças para o Brasil. Nota no Facebook e no Twitter.
2020. A survey of the main theories of the state - republican, organic, constractualist, Marxist, etc. including the new-developmental theory of the state..
---
2020. Palestra organizada pelo Departamento de Filosofia da PUC-RS (Video)
28.6.2020. Um Brasil incapaz diante da estagnação econômica e do Covid-19.
2020. Entrevista a Marco Antonio Villa (video).
---
2020-Participação de Bresser-Pereira, em nome do projeto Brasil Nação, no lançamento da campanha "Brasil pela democracia e pela vida". (Vídeo)
2020. Brazil faces four crises (political, economic, moral and sanitary) in the framework of the world crisis of neoliberal capitalism and the rise of rightwing populism. (A Terra é Redonda)
2020. Para economista, alternativa heterodoxa é a melhor saída para permitir gastos do Estado durante crise (Article: FSP).
Escritores da Liberdade (Freedom Writers)
(Richard LaGravenese, rot. (2007) EUA Livro: Freedom Writers e Erin Grwell (a professora) c/ Hilary Swank, Imelda Staunton, Patrick Dempsey) Bonita história de uma professora cheia de idealismo e de energia, História verdadeira de Erin Grwell.
The Invencibles
(Dominik Graf, hist. (1994) Alemanha Hist: Peter Hollweg e Klaus Maas Rot: Günter Schütter. c/ Herbert Knaup, Katja Flint, Hansa Czypionka) Violência, sexo e poder em um thriller alemão formalmente poderoso, com a marca expressionista. (Mubi)
Loucuras de uma Primavera (Milou en Mai)
(Louis Malle, escr (1990) França Escr:.Jean-Claude Carrière c/ Michel Piccoli (Milou), Miou-Miou (Camille), Paulette Duboist (avó), Harriet Walter (Lily), Michel Duchaussoy (George,adv.), Martine Gautier (Adèle), François Berléand (Daniel), Jeanne Herry (Françoise)) Milou amava a vida e a primavera. Sua família, nem tanto; disputava herança. E maio de 1968 acontecia em Paris apavorando os ricos. (Mubi)
Paixão Selvagem (Je t'aime non plus)
(Serge Gainsbourg, escr (1976) França c/ Jane Birkin, Joe Dallesandro, Hugues Quester |) Amor entre uma Jane Birkin quase menina e um jovem gay. Vidas sem perspectivas.
Novo Testamento
(Sacha Guitry, escr (1936) França c/ Sacha Guitry, Jacqueline Delubac, Christian Gérard) O brilho de Sacha Guitry em uma comédia elegante e engraçada na qual é descoberto o testamento de um personagem vem vivo. (Mubi)
Joias Brutas (Uncut Gems)
(Benny Safdie, Josh Safdie (2019) Escr: Ronald Bronstein, Josh Safdie e Bennie Safdie c/: Adam Sandler, Julia Fox (Julia), Idina Menzel (esposa)) Ele inteligente, corajoso e espontâneo demais para que um bruto fascista cheio d ódio pudesse aguentá-lo. (Netflix)
Nada Ortodoxa (Unorthodox) (Minisérie).
(Criador Anna Winger (2020) Diretor: Maria Schrader Livro: Deborah Feldman, rot. Rot: Daniel Hendler, Alexa Karolinski, Anna Winger Stars: Shira Haas (Esther), Amit Rahav (marido), Jeff Wilbusch (Moishe), Delia Mayer (mãe). Netflix não informou se haverá segunda temporada.) A conquista da liberdade exige coragem e firmeza. (Netflix, 4 episódios)
Tigertail
(Alan Yang, escr (2020) EUA/Taiwan c/ Tzi Ma (pai), Christine Ko (filha), Hong-Chi Lee (pai jovem), Cindera Che (mãe em Taiwan)) Alan Yang. Ele se vendeu, e pagou caro por isso. (Netflix)
Bons artigos que li recentemente Ver todos
A chamada cultura do cancelamento representa uma ameaça à liberdade de expressão? NÃO
Tributação e desigualdade
Inclusões recentes / Recents inclusions