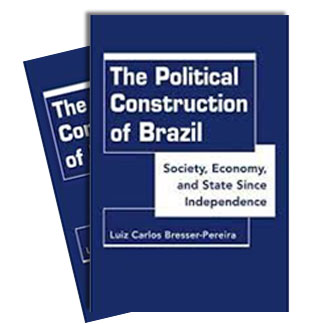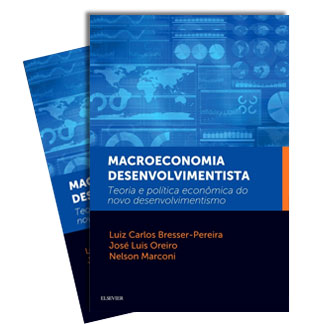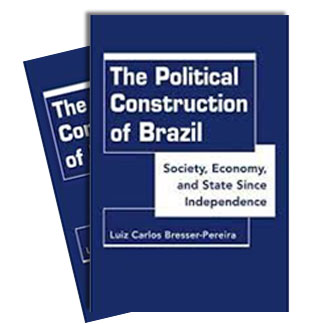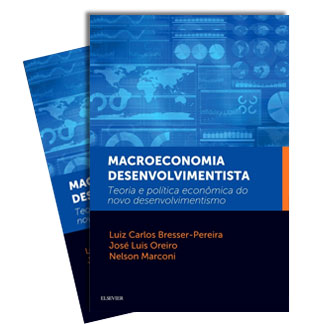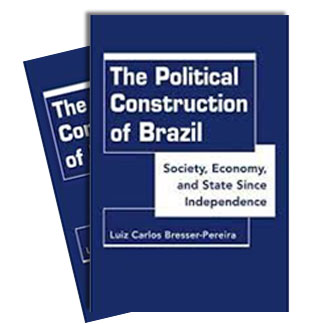 Destaques
---
2020. Note defiining the competitive exchange rate or industrial equilibrium - the exchange that makes competitive the companies or investment projects utilizing the best technology. A critique to a paper by José Luis Oreiro, Paulo Gala and Luciano D'Agostini. (Available in this website only).
2020. Homenagem a um amigo e notável político de centro-direita. (Nota0
---
2020. Many rich countries are financing the huge Covid-19 expenditures by monetary emission. Brazil should have done the same. Portuguese version available. (Paper: Brazilian journal of Political Economy) English version available
2020. Ex-ministro dos governos Sarney e FHC, Bresser-Pereira demonstra preocupação com o futuro da economia do país e pede mais investimentos por parte do Estado. (Entrevista a Zero Hora)
2020. Para Bresser-Pereira, com pensamento liberal não pode haver crescimento. Por isso, reedita sua tese novo-desenvolvimentista e assegura que imprimir moeda não é sinônimo de inflação descontrolada (Entrevista João Vitor Santos).
---
2020. Many rich countries are financing the huge Covid-19 expenditures by monetary emission. Brazil should have done the same. Portuguese version available. (Paper, Forum for Social Economics) Portuguese version available
2020. O dinheiro não é um fator causador mas "sancionador" da inflação, mas só agora se tornou evidente a todos (Article: Valor).
2020. A retomada do investimento público parece ser fundamental para estimular o nível de atividade da economia brasileira, melhorar nossa competitividade e minorar gargalos sociais. (Fórum de Economia da FGV)
2020. After the "quantitative easing" central banks assumed the role of financing the state. This a revolution in macroeconomics.
Em Nome da Honra (Furyio- Goodbye Mr. Lawrence)
(Nagisa Ôshima, rot. (1983) Japão,Rot.: Paul Mayersberg Romance: Laurens van der Post c/ David Bowie, Tom Conti (Lawrence), Ryuichi Sakamoto (Yonoi), Takeshi Kitano (sargento)) 1983. A entre dialética da honra e da disciplina com o amor e a humanidade. Uma obra-prima do cinema. MUBI
A Colecionadora
(Eric Rohmer, escr (1967) Diálogo: Patrick Bauchau, Haydée Politoff, Daniel Pommereulle c/ Patrick Bauchau, Haydée Politoff, Daniel Pommereulle,) 1967. A arrogância masculina diante de uma jovem forte e de bem com vida. Diálogo cerebral demais. MUBI
I BasilischI
(Lina Wertmüller, escr (1963) Italia c/ Antonio Petruzzi, Stefano Satta Flores, Sergio Ferranino |) 1963. "Todos sabem que ele nunca sairá daqui. Assim a vida passa, e nós fazemos tão pouco." Quase um documentáario. MUBI
Tudo Bem no Natal que Vem
(Roberto Santucci (2020) Brasil Escr: Paulo Cursino c/ Leandro Hassum, Arianne Botelho, Louise Cardo Esso, José Rubens Chachá) 2020. Engraçado até a metade, com um bom ator histriônico. Depois, fica meloso. NETFLIX
Farewell Amor
(Ekwa Msangi, escr (2020) EUA c/ Ntare Guma Mbaho Mwine (Walter), Zainab Jah (Esther), Jayme Lawson (Sylvia), Nana Mensah (Linda), Marcus Scribner) 2020. Amor e delicadeza andam juntos. Uma família de imigrantes de Angola afinal se une em Nova York, mas o reenoontro não é fácil. MUBI
So Long, My Son (de Xiaoshuai Wang)
(Xiaoshuai Wang, escr (2019) China Escr: Mei Ah, c/ Jingchun Wang, Mei Yong, Xi Qi) 2019. Um belo melodrama familiar na China quando só era permitido um filho. MUBI
O Fim da Viagem, o Começo de Tudo
(Kiyoshi Kurosawa, escr (2019) Japão c/ Atsuko Maeda, Shôta Sometani, Tokio Emoto |) 2019. Uma jovem repórter no Uzebequistão, a coragem, o amor e a vida. "Hino de Amor", de Piaf, cantado pela jovem. MUBI
Jovem Mulher
(Léonor Serraille, escr (2017) França Escr (colaboradores): Clémence Carré, Bastien Daret c/ Laetitia Dosch, Souleymane Seye Ndiaye, Grégoire Monsaingeon |) 2017. Uma jovem mulher abandonada, perdida. Um filme descozdo. MUBI
Bons artigos que li recentemente Ver todos
Dois anos de desgoverno. Do voo da galinha ao voo do peru
O problema da dívida pública
Inclusões recentes / Recents inclusions
BOOKS Available in the bookstores or in this site (pdf)
LIVROS disponíveis nas livrarias ou nesse site (pdf)
Em Busca do Desenvolvimento Perdido
Editora da FGV, 2018

The Political Construction of Brazil
Lynne Rienner Publishers, 2017

A Construção Política do Brasil
Editora 34, 2016 (3a. edição), 2016

Macroeconomia Desenvolvimentista
c/ José Luis Oreiro e Nelson Marconi
Editora Elsevier, 2016
Developmental Macroeconomics
c/ José Luis Oreiro e Nelson Marconi
Routledge, 2014.
Globalization and Competition
Cambridge University Press, 2010.

Globalização e Competição
Elsevier, 2010.

Mondialisation et competition
Edition La Decouverte, 2009.

Developing Brazil:
Lynne Rienner Publishers, 2009

Democracy and Public Management Reform
Oxford University Press, 2004.

Introdução à Organização Burocrática
c/ Fernando Prestes Motta
Thomson, 2003.
Desenvolvimento e Crise no Brasil (5ª. Edição)
Editora 34, 2003.