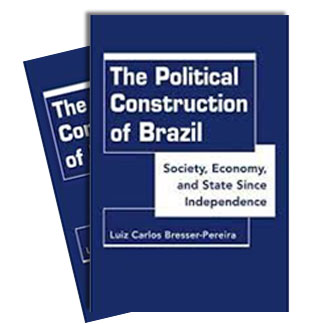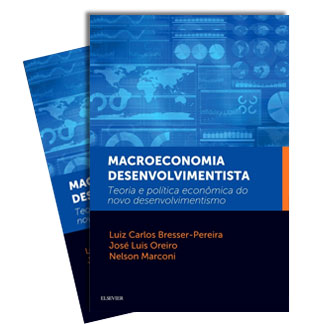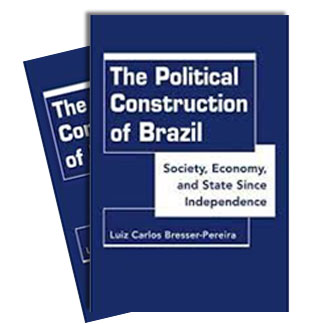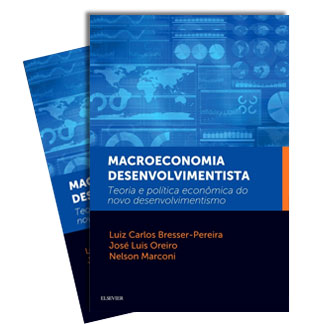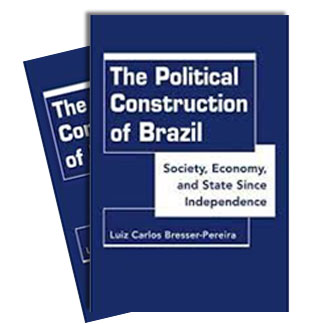 Destaques
---
Evento de lançamento do livro "Keynes e os Pós-Keynesianos: princípios de macroeconomia para economias monetárias da produção" em sua versão em língua portuguesa, publicado pela Alta Books, sob organização do Prof. Luiz Carlos Bresser-Pereira. Participaram vários professores e professoras, brasileiros e estrangeiros, além da esposa do Prof. Cardim, Fernanda Carvalho, e seu filho, Thiago Carvalho.
2020.
OUÇA AQUI A entrevista do professor Bresser-Pereira para o canal Direito e Economia, com Ana Frazão.
---
16.11.2020 - Guilherme Boulos impressionou-me desde a primeira vez vez que o vi. Poderá ser um grande prefeito de São Paulo. Twitter e Facbook
2020. Two page definition of the new-developmental economics, which a group os economists are developing in the last 20 years..
(2020) Yes, it is, because liberals ignore the Dutch disease, recommend growth with "foreign savings", etc. Paper with Carmem Feijó e Eliane Araújo.
---
2020. Guerreiro Ramos and Celso Furtado were two outstanding developmental intellectuals who thought Brazil. (Folha de S.Paulo)
2020. A critique of "associated dependency theory" which had a strong influence on Brazilian intellectuals and led them ignore the importance of a national project. (Lecture at FAU/USP - Video, 70 minutos)
2020. The poor outcomes of the Brazilian government in fighting the health and economic problems associated to Covid-19 when compared with Argentina and France. (Paper).
2020. A survey of the main theories of the state - republican, organic, constractualist, Marxist, etc. including the new-developmental theory of the state. (Paper)
Nova Lituânia
(Karolis Kaupinis, escr (2019) Lituânia c/ Aleksas Kazanavicius (geógrafo), Vaidotas Martinaitis (primeiro ministro), Valentinas Masalskis) 2019. Na Lituânia de 1939, invadida de um lado pela Polônia, de outro, pela Alemanha, uma história bem contada. Quão histórica? Não sei. MUBI
Plano Imperfeito (Set Up)
(Claire Scanlon (2018) EUA Escr: Katie Silberman c/ Zoey Deutch, Glen Powell, Lucy Liu, Taye Diggs) 2018. Inteligente demais, rápido demais, OK. A moça Zoey é uma viva e encantadora zoeira. NETFLIX
The Hedonists (curta-metragem)
(Zhangke Jia, escr (2016) China Escr: Tao Zhao c/ Sanming Han, Zhangke Jia, Jindong Liang) 2016. Três mineiros de Shanxi, desempregados com o fechamento da mina, buscam emprego. Uma alternativa é um thematic park chinês.
Sempre Bela (Toujours Belle)
(Manoel de Oliveira (escr), 2006, França c/ Michel Picoli, Bulle Ogier, Ricardo Trepa, Lawrence Foster (ele mesmo e Diretor Musical).) 2006. Manoel de Oliveira inventa uma fascinante continuação da "Bela da Tarde". Michel Piccoli, extraordinário! MUBI
Rosa e Momo (La Vita Devante a Se)
(Edoardo Ponti (2020) Rot: Ugo Chiti Romance Romain Gary c/ Sofia Loren, brahima Gueye (Momo), Renato Carpentieri (Dr. Coen), Abril Zamora (Lola), Babak Karimi (Hamil)) Momo, um menino tão duro. E no entanto... Sofia Loren de volta ao cinema em grande estilo.
On the Rocks
(Sofia Coppola, escr (2020) EUA c/ Bill Murray, Rashida Jones, Marlon Wayans) Pai e filha em encantadora investigação, que é muito mais sobre eles mesmos do que sobre o marido da filha sob suspeição. Apple TV
Ema
(Autumn de Wilde (2020) UK Rot: Eleanor Catton Romance: Jane Austen c/ Anya Taylor-Joy, Johnny Flynn, Mia Goth) Ema brincava com o poder. Um personagem não tão encantador quanto Elisabeth de Orgulho e Preconceito, mas igualmente fascinante. Apple TV.
O Julgamento dos Sete de Chicago
(Aaron Sorkin, escr (2020) Eddie Redmayne (Tom Hayden), Alex Sharp (Renie Davis), Sacha Baron Cohen (Abbie Hojfman), Alan Strong (Jerry Rubin), Frank Langella (Juiz Julius Hoffman), Yahya Abdul-Mateen II (Bobby Seale) Mark Rylance (Adv.William Kunstler), Joseph Gordon-Levitt (promotorRichard Schultz), Ben Shenkman (Adv. L. Weinglass), J.C. MacKenzie (Proc Geral Thomas Foran)) 2020. Ótima reconstrução do julgamento de ativistas conta a Guerra do Vietnam em 1968. NETFLIX
Bons artigos que li recentemente Ver todos
90 anos de Jean-Luc Godard
Uma concepção maior de mundo
Inclusões recentes / Recents inclusions
BOOKS Available in the bookstores or in this site (pdf)
LIVROS disponíveis nas livrarias ou nesse site (pdf)
Em Busca do Desenvolvimento Perdido
Editora da FGV, 2018

The Political Construction of Brazil
Lynne Rienner Publishers, 2017

A Construção Política do Brasil
Editora 34, 2016 (3a. edição), 2016

Macroeconomia Desenvolvimentista
c/ José Luis Oreiro e Nelson Marconi
Editora Elsevier, 2016
Developmental Macroeconomics
c/ José Luis Oreiro e Nelson Marconi
Routledge, 2014.
Globalization and Competition
Cambridge University Press, 2010.

Globalização e Competição
Elsevier, 2010.

Mondialisation et competition
Edition La Decouverte, 2009.

Developing Brazil:
Lynne Rienner Publishers, 2009

Democracy and Public Management Reform
Oxford University Press, 2004.

Introdução à Organização Burocrática
c/ Fernando Prestes Motta
Thomson, 2003.
Desenvolvimento e Crise no Brasil (5ª. Edição)
Editora 34, 2003.